Cavli Wireless Inc. in partnership with GCT Semiconductor Inc. has recently released C42GM, a single-mode LTE CAT M1/NB1/NB2 (upgradable to Release 14) smart IoT module for asset tracking and automotive solutions. This smart cellular module is based on GCT GDM7243i and comes with an integrated eSIM GNSS, CAN controller, and BLE4.2. Furthermore, the C42GM smart IoT module is Sigfox compatible too, making it an attractive option for organizations focusing on hybrid connectivity solutions.
The C42GM LTE CAT M1/NB1/NB2 Module is the latest addition to Cavli's C-Series family. The integrated eSIM coupled with Cavli Hubble Global Connectivity ensures the module can be deployed across the globe, making it an ideal solution for logistics, automotive, vehicle tracking systems, and more. The device has a healthy battery life profile of 10 years due to its Deep Sleep Mode capability.
Various LPWAN applications like trackers, wearables, smart utility meters, and other sensor-based solutions for smart city projects can be seamlessly powered with the eSIM integrated C42GM smart IoT module with global connectivity. The company is currently running pilots with customers around the globe and the C42GM will start shipping out globally on a mass production basis from the first quarter of 2021.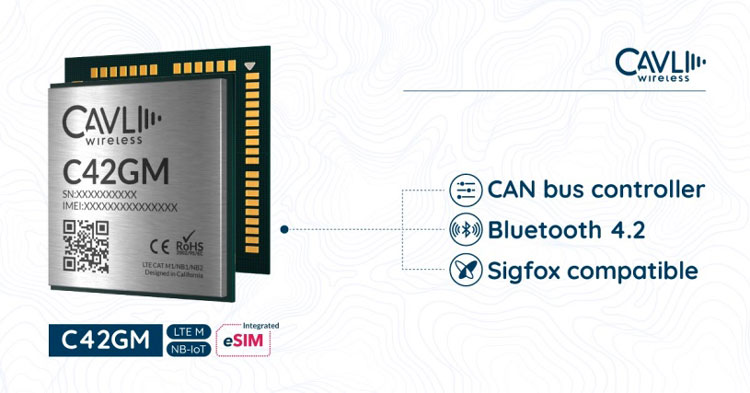 Key Features of the C42GM Smart Cellular Module
1. CAN-bus controller
The integrated CAN Bus controller feature of the C42GM module makes it compatible with the industry-standard CAN Bus protocol interface which can strengthen designs in factory automation and IoT by improving cable management and a simple two-wire interface.
2. Bluetooth 4.2
The Bluetooth 4.2 compatibility of the C42GM Smart Cellular module offers a short-range connectivity option for nearby devices and sensors with increased privacy, speed, and improved internet connectivity compared to previous generations of Bluetooth technology and the IP connectivity offered in Bluetooth 4.2 allows direct internet connection for smart sensors and devices.
3. Sigfox Compatibility
The C42GM Smart Module features Sigfox functionality for connectivity to Sigfox networks across the world as a secondary communication network.

Asset Tracking and Automotive Solutions Powered by Cavli's LTE CAT M1/NB1/NB2 C42GM IoT Module
1. Cold Chain Monitoring
IoT-enabled cold chain management solutions utilize sensors to monitor and manage the environment of temperature-sensitive perishables to prevent spoilage and wastage as they move through the supply chain. It allows customers and fleet managers to track shipments in real-time, receive alerts to any delays, and remotely inspect the condition of packages.
2. Truck Yard Management
IoT's influence in the supply chain is offering ground staff and managers visibility over the location and status of trucks and operating vehicles. IoT-enabled truck yard management uses the benefit of embedded sensors and smart devices to monitor, manage, and automate the processes involved in managing truck yards and docks which include activities such as loading and unloading, assigning docks, and monitoring the movement of vehicles to increase operational efficiency and reduce detention costs.
3. Preventive Maintenance
Machines and equipment, in general, require seasonal inspection and maintenance to detect subtle wear and tear. For example, cars require timely maintenance in terms of insurance, tire, and oil change. The Industrial Internet of Things is making this easier for the user by using Preventive Maintenance solutions to monitor things beforehand.
4. Tracking Staff, Patient & Inventory
Hospitals and healthcare facilities are showing a fast-paced adoption of real-time location tracking systems for easy monitoring of assets and the workforce. Sensor-embedded IoT devices can track and monitor the location of medical supplies in real-time, helping medical staff and health workers to realize the efficient and effective means of handling clinical operations, resources, and infrastructure.