Wearable Technology, as fascinating and futuristic as it sounds, will soon become a reality. Ten years ago nobody would have thought that we would have a palm-sized computer called smartphones everywhere in our pockets. Today, not only 82.2% of the world's population carries a smartphone, but people are also becoming acquainted with other wearable devices, such as smartwatches, fitness bands, and so on. With the availability of advanced technologies to shrink electronics and the connectivity options offered by the Internet of Things (The portable technologies market is growing steadily and is expected to reach $ 51.6 billion by 2022.
When thinking about a wearable device most of us would limit our thoughts with smartwatches or smart glasses. But, apart from smartwatches, various types of wearable devices are available in the market which can help you to upgrade your daily lifestyle. In this article, we will look at the top 10 wearable devices in the market and the technology behind them.
1. NFC Smart Ring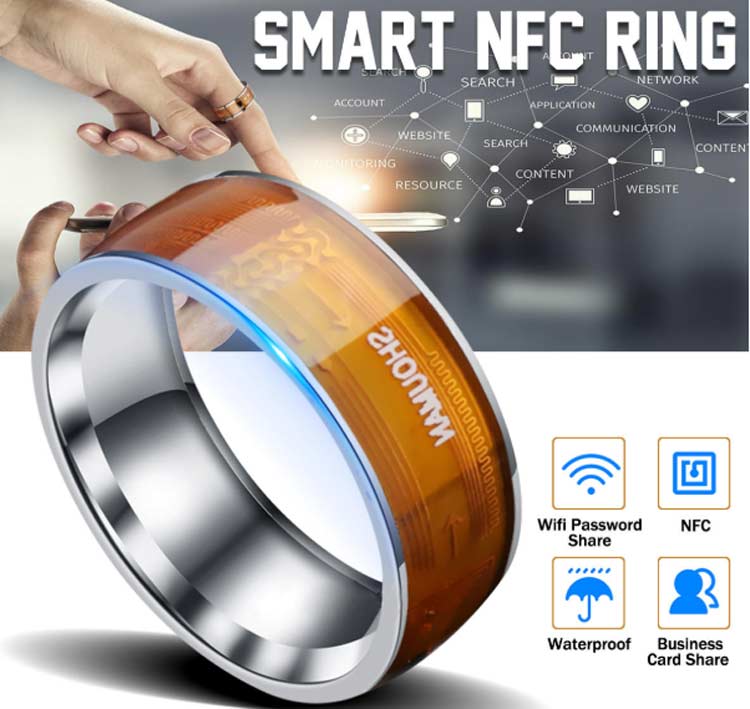 Have you been troubled by handling your credit card, metro card, and house, car keys, etc. all together? Many of us and we are also afraid of losing them when carrying them around. This NFC Ring here could solve this problem with a breeze.
The smart NFC Ring looks like a normal ring by appearance but it is embedded with sensors, network connectivity, and software which allow us to share or exchange the data. It has intelligent technologies such as Program lock, automatic running, business card share, link share, soft voice, net file share, intelligent door lock. Every function just needs a simple finger approach.
If you have an NFC ring, then don't need to carry credit cards, door keys, car keys, etc. By using the NFC ring, you can pay bills without having credit cards. Also, it helps you in metro ticketing. NFC ring helps you to unlock your home's door if it has NFC enabled lock. Similarly, you can unlock your car by NFC Ring. When we connect NFC Ring to the smartphone; it provides notification alerts by vibration, and it allows making phone calls.
2. Smart Posture Trainer
If you are suffering from slouching at your desk or at home and is looking for a way to improve your posture, UpRight Go could just be the solution. Upright Go is simply placed on the upper back to monitor your posture. The UPRIGHT GO is designed to inform the user whenever he/she deviates from a pre-calibrated good posture, by producing a gentle vibration reminder.
UpRight Go has some specifications like lightweight, small size, waterproof, easy to operate, uses Bluetooth technology, etc. Setting up the UpRight Go is very easy - charge it, turn it on and attach it to your back. Then you can download the associated app and sync via Bluetooth. After syncing, the app guides you through a few steps to entering height and weight before showing you how your posture is being tracked.
The Upright Go asks you first to determine your posture. This is a benchmark against which you can measure yourself so that he knows when you are hanging around. Once your stance has been set, the UpRight Go gently vibrates when it detects that you have started slouching.
3. Gaming Simulator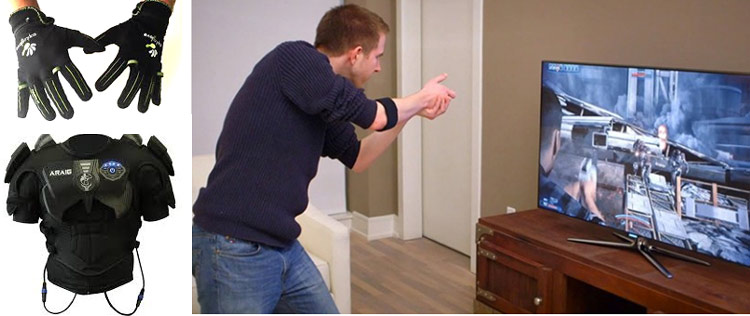 If you're an avid and keen gamer, you know what it feels like to immerse yourself in a game and become a part of it. Many wearable gaming devices allow you to make the gaming adventure more physical and engrossing.
For example, MYO is a smart armband that allows you to control your game by hand gestures. The band has eight modules with built-in sensors that detect electrical activity in your muscles and arms, including arm waving and finger movement. In an impressive movement, every movement and gesture is captured by these sensors, so your virtual character in the game behaves in the same way.
Likewise, the ARAIG suit is ahead of the vibrating controllers and peripherals and has much more to offer. With its stunning design, it mainly has three types of sensory feedback that enhance your gaming experience. The suit includes surround sound, vibration systems and self-stimulating behavior (STIMS) to give you a sense of how a bullet hits your body, or audible feedback about where you're going, and even stimulation that contrasts your muscles and then let it relax automatically.
4. Smart Shoes

It looks like we are approaching a world as depicted in Back to the Future. Smart homes, smart luggage, and smart sports stadiums become reality. Now one of the latest trends of the future is smart shoes. For a player or individual, the comfort zone is most important. False-seated shoes can lead to pain, balance problems, unsteady state and so on.
All these problems can be overcome by using smart shoes with embedded sensors. As a result, they recognize the blood pressure and adjust automatically. So you feel well even if your feet are swollen by strenuous physical activity. These smart shoes use Electric Adaptable Reaction Lacing Technology, which allows footwear to adapt to the shape of your foot.
These smart shoes provide personalized feedback to examine health, fatigue, posture, steps, and calories, as well as accurate data to improve health and prevent injury. It connects easily to a Bluetooth 4.0 device and provides personalized, real-time coaching through a smartphone app.
5. Smart Jewellery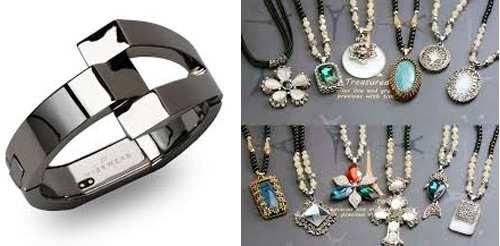 Jewelry has always been portrayed as an ornamental symbol of beauty and wealth, but what if it can do more? IoT-enabled smart jewelry has the potential to monitor all user activity. There are many elegant pieces of jewelry on the market that can be worn in different ways, such as a necklace, a clip or a bracelet.
Bellabeat Leaf Urban, for example, is a beautiful pendant made of solid wood composite. It's an activity tracker and a sleep monitor with some helpful features to help you predict your stress level. Stress sensitivity detects when you are too stressed and reminds you of breathing exercises or meditations to relax your mind. Another feature that is Menstrual Cycle Tracking, One can keep records of her menstrual cycle and be prepared for it. Also, if she is pregnant it can be used to track days and months of her pregnancy Schedule.
It has some other significant features such as alarm, pause reminder (if you are sitting too long, you can pause) and a waterproof IPX6 protection rating that ranges from splash to water in the shower.
6. Fitness tracker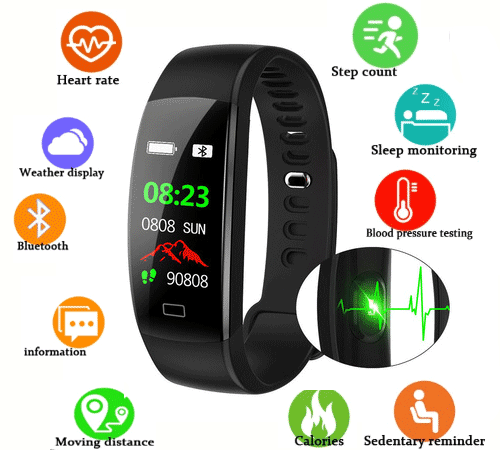 We do not have enough time to look after our health and fitness in this busy world. Thanks to the latest technology, we can now follow our daily activities on the go with the latest fitness bands. Yes, these smart bands or activity trackers help track your steps, calories burned, and distance traveled (or walked). Some fitness trackers even monitor your sleep pattern and suggest healthy remedies.
The Surge Ultimate is a premium fitness smartwatch that features a large rectangular display that can be used as both a watch and a smart band. It records calories burned using automatic wrist-based heart rate monitoring so you can get the exact data. It also monitors your sleep level and shows how much quality sleep you get every day.
It offers Pure Pulse heart rate tracking, Tracks activities throughout the day such as footsteps, distance, climbed floors, active minutes, workouts, and calories burned. Also, helps in automatic monitoring of sleep and GPS tracking, and Displays call and text notifications, Control songs from the mobile playlist. It has Up to 7 days of battery life and Multi-sport functionality makes it easy to track different workouts.
7. Smart Band for Blinds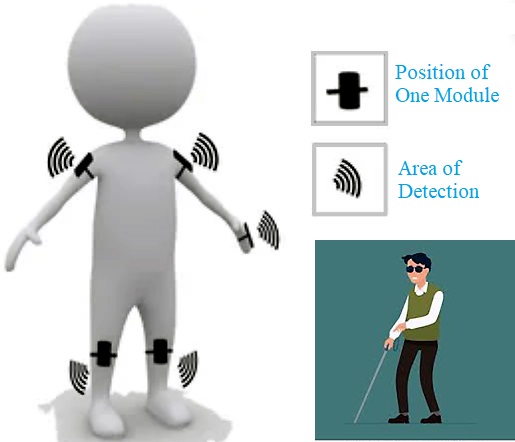 The World Health Organization (WHO) reported that there are 285 million visually impaired people worldwide. Among these people, there are 39 million who are completely blind. Various systems have been developed to help visually impaired people and improve their quality of life. IoT and wearable have tremendous potential to empower the lives of people with inabilities. It is well known that these technologies offer us many possibilities.
Toyota is developing a wearable device that will improve the mobility of blind people. It is a band that can be worn nearby the shoulders. The main input for the device is generated by the cameras, which detects the neighboring and identify signs. The shoulder device gives feedback to the wearer through noise and vibration, tells him what's in front of him, and helps him to navigate.

It also provides mapping, object identification, and facial recognition, which would help create an even better experience for the blind. It helps determine obstacles around the user's body from the floor to head, and instruct the user that the moving surface is made up of gaps or textures.
8. Smart clothing

We came to know that apart from smartwatches there are many tools available. But you will be surprised to know that your clothes have also become a part of smart technology. Yes, now your clothes can easily provide you all the information related to your health.
Smart clothing is an advanced fusion of technology and fashion, an innovation that makes the imagination a reality. They integrate electronics into textiles through flexible fabrics, that's why smart cloths are also known as E-Textiles.
A recent survey by the World Economic Forum has revealed that 92.1% of corporate leaders believe that by 2025, 10% of people will wear clothes that will be connected to the Internet.
Smart clothes monitor the physical condition of the wearer. Primarily Smart Cloth monitors important health-related information such as heart rate, respiration rate, temperature, etc. Smart clothes are also used in military operations. If the wearer of a smart cloth gets a bullet, it detects the impact of the bullet and sends a radio signal to the control room.
9. Smart Nicotine Patch
Do you have an addiction to alcohol, smoking, drugs, etc. and want to get out of this swamp? Then wearable IoT Technology will help you to get out of the bog.
These device uses nicotine replacement therapy (NRT) to deliver nicotine directly into the user's bloodstream to regulate and stop the user. First, the nicotine dose is high, but as the 10-week weaning program continues, the amount of nicotine decreases until the user is completely weaned off the substance. These devices monitor your routine, such as how much and when you smoke, what is your nicotine level, also, it motivates you by telling you about your improvement. The device uses Bluetooth technology to communicate with the mobile app, which provides real-time coaching for cravings and staying quit.
You can connect it to your mobile and get the information about the nicotine inside you on your mobile app. If it detects new smoking cravings in your body, it tells the app, which encourages you to avoid it immediately through text message.
10. GPS Tracking Band

We are often worried about our Childs safety when they go to school or somewhere to play in the park. We cannot keep a watch on them all the time and cannot follow them. This is where a GPS tracker could solve your problem.
The GPS band is a device with an integrated GPS receiver; it is light, harmless to health, waterproof and flexible. You can tie this GPS tracker to your child's wrist. Also, there is an emergency alarm button that alerts you on your phone whenever your child gets into trouble.
We can connect the tracking band to an associated app that includes a detailed history of your child's movements, including the time spent in each location, transit times and even top speed during transit. It is also beneficial for people suffering from amnesia, in which people often forget their home address or go to some unknown place.
The wearable IoT is not limited to these 10 examples. Yes, but we can guess from this that the future is going to be very thought-provoking. Microsoft, Blackberry, Google and Samsung are following Apple and establishing the stage for an extensive bang of wearable devices.
Credit Suisse expects the total market value for the wearable to progress over the following three to five years, from $ 3.0 to $ 5.0bn to $ 30.0 to $ 50.0bn